As I'm sure all are aware of by now, no thanks to the lamestream media,
AFP
called on tea partiers to descend on Madison, WI today to give support to Gov. Walker's plight for fiscal sanity. Even with the sparse coverage, one can still find some details beginning to trickle out (this time, no thanks to a particular search engine!):
From NRO's "Developing" section:
with this image posted shortly after 2:30pm: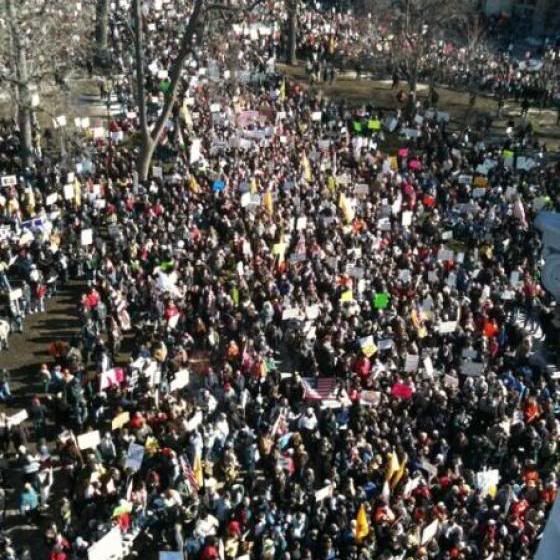 http://www.nationalreview.com/developing/260184/wis-tea-party-rally-katrina-trinko
And Michelle Malkin is keeping us widely informed of the events on the ground, further exposing the inner workings of the Left's illegal assembly:
"Badger State Battle: Unions vs. Tea Party in Wisconsin; Runaway Dems could be AWOL "for weeks;" recall campaigns launched; nine anti-Walker protesters arrested; fake doctors' notes for fake sick teachers (VIDEO)" by Michelle Malkin
http://michellemalkin.com/2011/02/19/badger-state-battle-unions-vs-tea-party-in-wisconsin-runaway-dems-could-be-awol-for-weeks/
Also, an
I Stand With Walker
website and associated
Facebook
page was started subsequent to the announcement of the rally.
I, among many, offer prayer for the safety of our brothers and sisters over this weekend who bravely confront the massive force of the public unions squatting at Madison's capitol building.
Gateway Pundit
reported yesterday that Andrew Breitbart, Herman Cain and its own Jim Hoft were among the speakers.
Joe "The Plumber" Wurzelbacher was also reported to be speaking.
I still have yet to find any speeches posted online, but here's proof that Andrew Breitbart was indeed there:
Hopefully, there will be speeches to come that I can post as Updates.
Also, here's a really great radio interview with Herman Cain yesterday discussing the WI protests and counter-rally:
Like I said, updates to come later...in the meantime, stay aware and keep supporting Gov. Walker through email, phone, fax, facebook, twitter, whatever comes to mind!
UPDATE: Breitbart's speech has finally shown up...
And here's another piece that NRO's Katrina Trinko has posted to illustrate the courageousness of Gov. Scott Walker...this should make us all feel a little more confident!
"He didn't flinch," Mr. Walker said of Reagan. "Obviously, I take a lot of inspiration from that."
Right on, right on...
UPDATE: Herman Cain's speech has shown up as well!
Be sure to check out the latest WSJ 'Question of the Day'.
The majority of Americans say NO!
(

mini-update:

On the 'day' the poll was taken, 60% of respondents said 'NO'...however, since WSJ has left this open beyond the actual 'day', union sympathizers have caught on to the poll and driven its numbers in their favor...in other words, it's no longer a valid poll.)
And I'll let the governor have the last word, as I'm slowly drifting from the topic of the rally back into the larger debate...here's his appearance with Chris Wallace on Fox News Sunday: